San Jose Criminal Lawyer Maureen F. Baldwin
"You Are a Person, Not a Case"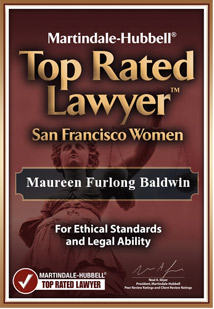 Maureen Baldwin is an aggressive, experienced San Jose criminal lawyer with over 30 years of experience in Santa Clara County Criminal Court, as well as in other Silicon Valley area criminal courts. 
She will fight for you to avoid the filing of criminal charges and to avoid a criminal conviction if your case is currently in court.
Based on her experience and knowledge of the local prosecutor's office policies, as well as the judges of the Santa Clara County Superior Court, Maureen knows how to mount an effective defense.  
As any fighter knows, there is a time to go forward aggressively and a time to prepare your own strengths and assess your opposition.
Criminal charges are always serious, whether you are charged with a felony or a misdemeanor. A criminal case negatively impacts your freedom, your family, your finances, your ability to find or change jobs, and of course can be personally devastating to law-abiding people.
If you are not a U.S citizen, a criminal charge can cause you to be deported, or keep you from becoming a U.S. citizen. You need an experienced, aggressive, and knowledgeable attorney on your side to avoid a conviction, avoid filing of criminal charges by the police, and avoid county jail or long prison sentences.
Contact the Law Office of Maureen F. Baldwin today to schedule a free consultation.
---
CLIENT FIVE STAR REVIEWS

"She answers my emails diligently and promptly and gave me great advice every step of the way. Her rates are very reasonable and a true lawyer by your side!"
"Ms Baldwin is a great attorney. She is compassionate and caring. She helped to turn an unjust arrest into justice. She believed me when others doubted me she is awesome."
"…She is not like the other attorneys who look at you as money making machine. She is a good human of values."
"[Maureen] knows the law and has decades of experience. The smartest decision I ever made was to retain her services…Because of Ms. Baldwin, I can pursue goals in life that I thought were impossible before."
"I hired Maureen to defend me on domestic violence case. She listened, she then explained to me the possible outcomes and what I need to do, what she will do. The case played out as pretty much she explained, my case was dismissed."
An Experienced San Jose Criminal Lawyer
Maureen Baldwin has the experience to make decisions when they need to be made, as well as how to defend against cases that can put you in jail before you even understand what has happened to you!
She knows when to call the district attorney and when it is better to collect all the facts and wait to defeat criminal charges in court.

Maureen Baldwin lends her experience, care and compassion to help you:
Defend against domestic violence charges

Avoid a criminal conviction

Avoid criminal charges being filed before court

Obtain a Not Guilty verdict after trial

Avoid a long prison sentence

Have your case properly investigated

Counseling or home monitoring instead of jail

Get a record clearance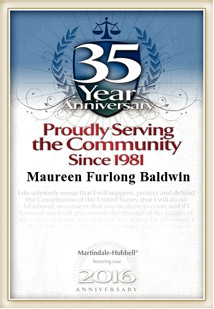 Representing clients in: San Jose, Santa Clara County, Palo Alto, Sunnyvale, Santa Clara, Cupertino, Los Gatos, Morgan Hill, Gilroy, Campbell, Los Altos and Mountain View.